Here we have 4 examples of basic gypsy jazz comping/rhythm guitar parts, a chord arrangement of an original gypsy tune, plus audio examples of the written parts followed by variations.
A few things about Gypsy Jazz comping:
Gypsy music tends to have a rhythmic center, a heavy pulse, and quick tempo. The guitar (along with bass) is usually in charge of keeping the pulse with chords and percussive attacks. Using muted strings, there is a great deal of percussive attacks in between chords; rhythmic variations and developments are found more often than bold harmonic ventures. Most times, the guitarist is chunking away at the strings, maybe playing off rhythms in the melody, bassline, or drumset (if any).
Some gypsy artists to check out:
Django Reinhardt
Stefan Grapelli
John Jorgenson
Zoran Predin and the Gypsy Swing Band
Gypsy Swing Cats
Onto the lesson...
Basic Gypsy Jazz Comping
Here we have 4 basic gypsy jazz rhythms and a chord arrangement of the Gypsy tune "Photographs."
For the first four examples, we will be practicing rhythms on a standard D9 chord; notice the "X"s on the TAB and notation indicating the "chunked" strings. Chunk being basically a mute, except in gypsy we want to bring this percussive attack out as opposed to trying to avoid the muted strings.
A NOTE ABOUT AUDIO EXAMPLES: The first four basic rhythms are accompanied by four audio examples, which demonstrate the written notation PLUS variations on the written rhythm.
Rhythm 1

Audio Example 1 by jhawkinsexamples
*Notice the alternating bass on the low E and A strings. While it may not seem important on that basic of a pulse, internalizing that alternating bass movement can be a tasty tool when playing variations on the main pulse.
Rhythm 2
Audio Example 2 by jhawkinsexamples
For this example, we'll be playing the chords on beat 2 and 4, and percussive attacks on 1 and 3. In a high tempo or 2-feel it will feel like off-beats.
If you're having trouble with the percussive attacks, try starting out very slow and looping the pattern, gradually speeding up as you internalize the pulse. Avoid doing the muted percussive attacks around the 5th, 7th, or 12th frets to avoid hitting harmonics.
Rhythm 3
Audio Example 3 by jhawkinsexamples
This is the first example with rests so far for an important reason: while keeping a steady rhythm and heavy percussive attacks keeps the song moving forward, adding silence to the mix can be an interesting tool to add tension to the mix. This rhythm works great at the end of phrases, or in an extended dominant chain, or something along those lines. Anywhere where you want to change up the feel slightly without going crazy, this rhythm can be used.
Rhythm 4
Audio Example 4 by jhawkinsexamples
Rhythm 4
is a great rhythm to follow up
Rhythm 3
. I like to use this rhythm in the last 4 bars of a section of a tune, or leading up a turnaround. Either way, using this to build up to
Rhythm 3
, vice versa, or using it to build up into a variation can bring some interesting sounds besides the standard, steady gypsy pulse.
Part 2: Chord Arrangement of
"Photographs"
Here we have an arrangement of an original tune of mine
"Photographs"
. The arrangement includes all of the basic rhythms mentioned in the previous part of the lesson.
NOTE: While this arrangement has every rhythm example included, it makes it somewhat of an unrealistic, academic example. When actually performing on a gypsy tune, I'd advise against cramming as much stuff as you can into one chorus. Space it out, leave the variations for build-ups and tension. I have included all rhythms in one chorus from a demonstrative viewpoint, so you can see where different rhythms sound in different places of the tune.
Try practicing your own chord arrangement with the ensemble recording. At the bottom I have included a link to a leadsheet of the tune.
The form is ABAB>Solos>ABAB>tag.
I have included an audio example of just the chord arrangement on guitar, plus a full ensemble version of the song.
Photographs Chord Arrangement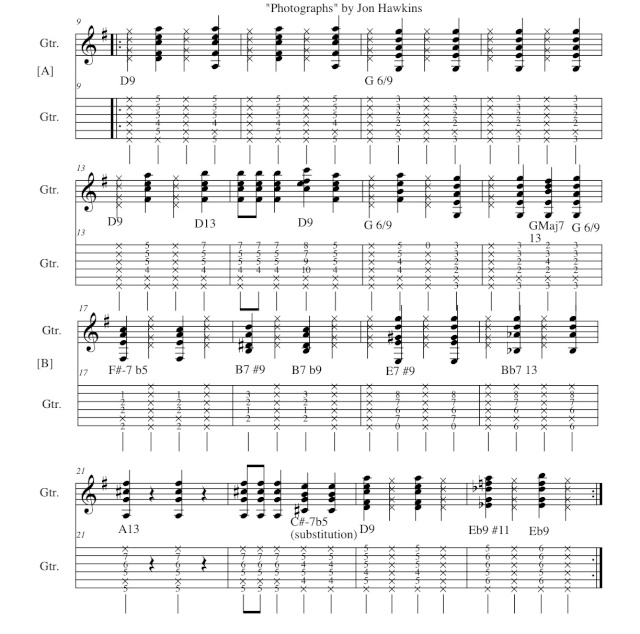 Photographs Lead Sheet
Audio Example (Guitar Only):

Photographs Chord Arrangement Example by jhawkinsexamples

Audio Example (Full Ensemble):

Photographs: (Happy Film Score Sample) by jhawkins



Jon Hawkins
www.soundcloud.com/jhawkins
Portfolio/Resume



Posts

: 18


Join date

: 2011-02-24


Location

: Boston, MA





Similar topics
---
Permissions in this forum:
You
cannot
reply to topics in this forum