Influences?
A musician's style is the total accumulation of outside influences from other artists, styles, or general musical ideas. By absorbing what we can from the artists that drive us, we can further our own individual development and shape your own technique and style.
In the age of the internet, its incredibly easy to find video and audio footage of your favorite artists and bands. Through transcription, learning their tunes, and mimicking their styles and techniques, you can incorporate your musical influences directly into your technique. This can be used for any instrument, any style, and even outside of performance. Harmonic transcriptions and learning the orchestration/arrangement of your favorite artists can increasingly further your compositions and arrangements.
Grooveshark is an excellent place to find almost any artist or song. You can sign up for free and make playlists, or simply search for songs and play them without registering. Downsides are that you cannot download the tunes or slow them down, and you have to rely on streaming audio.
Youtube has a vast collection of live performances and studio versions of tunes online. Using various websites, it is easy to download the audio to your computer. While the quality isn't amazing (low kbps mp3), it's something to work with.
I recommend AGAINST downloading 3rd party programs to your computer to do this, I haven't tried them and honestly they all look sketchy.
Some sites worth checking out to convert youtube to mp3:
http://www.video2mp3.net/
http://www.listentoyoutube.com/
http://www.youtube-mp3.org/
http://www.vidtomp3.com/
http://www.flvto.com/
These are just two examples of sources for audio up on the net. There are plenty more, so if you're not finding what you like on the sites I posted, do some research!
2) Listening/learning/transcription/absorption
While it is generally easier to learn a tune by reading the sheet music, the bills can stack up buying sheets for every tune you want to learn, and learning through listening can offer some advantages:
By taking 2-5 seconds of a tune at a time and learning specific parts, you can integrate them and internalize them easier than if you were repeating a sheet. When you play from the actual song, you hear the accents, articulation, and feel of the tune, which is often not in the sheet. Also, by memorizing little pieces at a time and then writing out each phrase after learning it, you memorize/internalize the tune more efficiently than if you were trying to memorize sheet music.
I often find that learning pieces of phrases individually and then writing out the whole phrase down helps me to keep track of everything. But what? You don't have sheet music? Too lazy to go buy it? Can't find tab paper/manuscript/piano/whatever you need?
BAM! Here it is:
http://www.blanksheetmusic.net/
Slowing down tempo
Ok, so often times it can be tough to just listen to an established artist and pick up the instrument and play what they're playing.
There are various programs that can be used to slow down audio without affecting pitch that run from $20 to who knows how much, but you can download Audacity for free, which has a function that does exactly that, plus a ton of other audio editing function.
You can download it here:
http://audacity.sourceforge.net/
(Note: if you don't have Audacity, I highly recommend it. It is easily one of the best, if not the best, free audio editing programs, with full AU capabilities and audio recording.)
Anyway, using Audacity you can slow down, loop, make selections and do a whole lot more to whatever it is you're wanting to learn.

3. Using Audacity to change tempo
1) If you don't have it, download Audacity
http://audacity.sourceforge.net/
2) Open Audacity
3) Click
File>Open
.....Select the song you want to slow down (I'm using "Green Chimneys" by Thelonious Monk,
Underground
)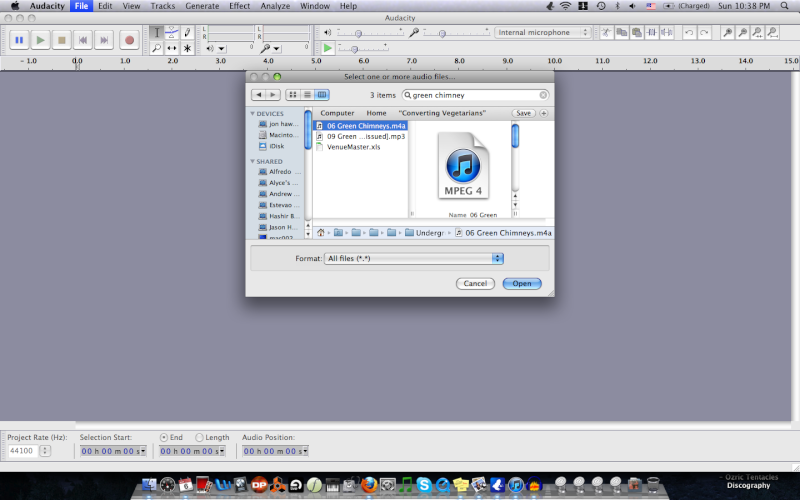 This is what Audacity should look like with your file open: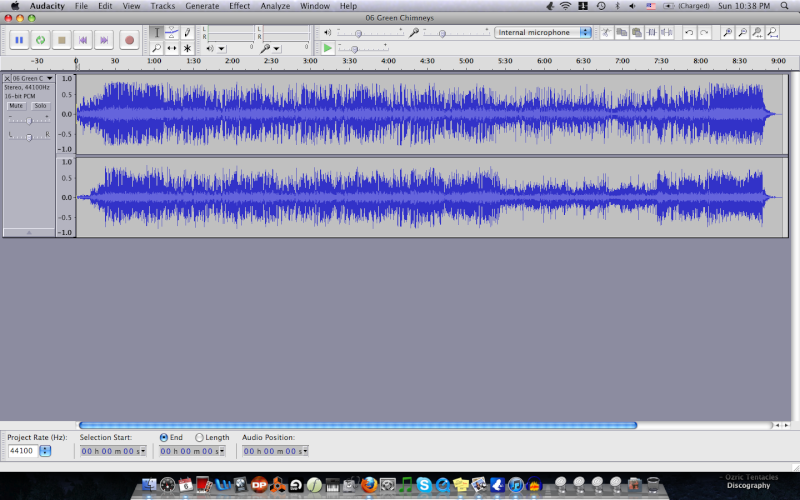 Notice the "Zoom in" "Zoom out" buttons on the top right corner. Use this to zoom in so that you can select a reasonable amount of audio to slow down.
4) Click on the place where you want to start tempo change, and drag the cursor to the point where you want to stop. Notice the selection symbol darkened in the top left, by the "Record" button. You will not be able to make selections without this tool selected.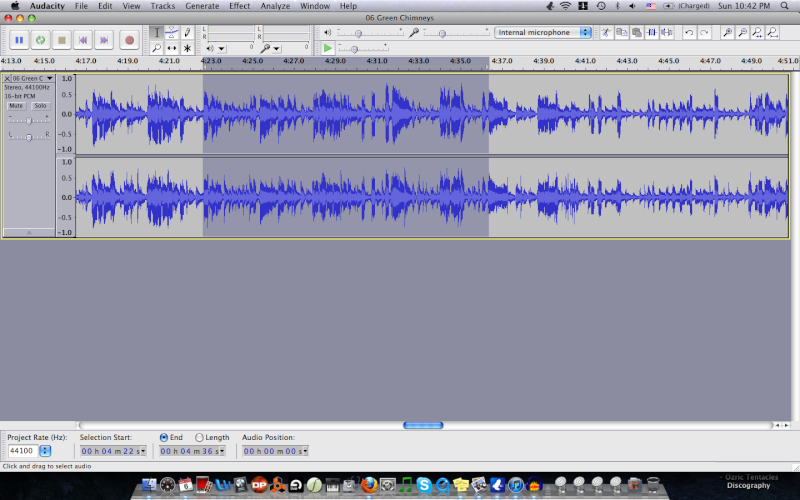 If you want to shorten/lengthen your selection, move your mouse to the edge of the selection so a "Pointing hand" symbol appears, then click and drag to make your selection more fine: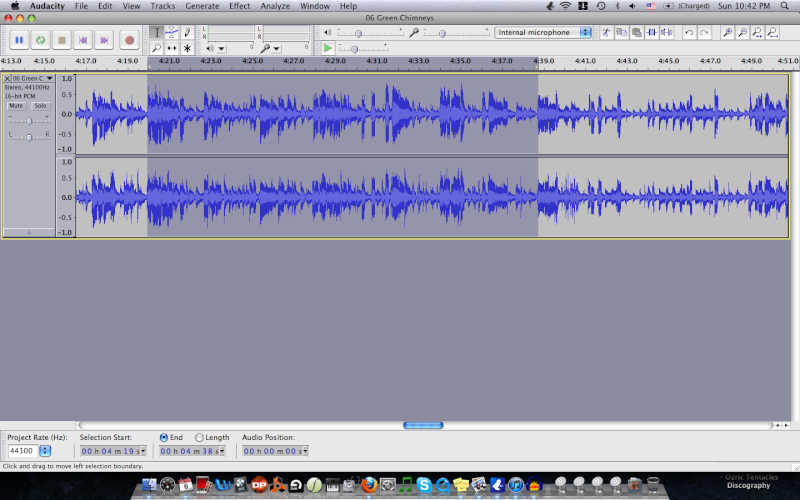 5) Once you have your selection, click
"Effect">"Change Tempo."
DO NOT
click "Change Speed," as that will effect the pitch, and instead of slowed down audio, you'll get a long growling mess. (Unless you're into that)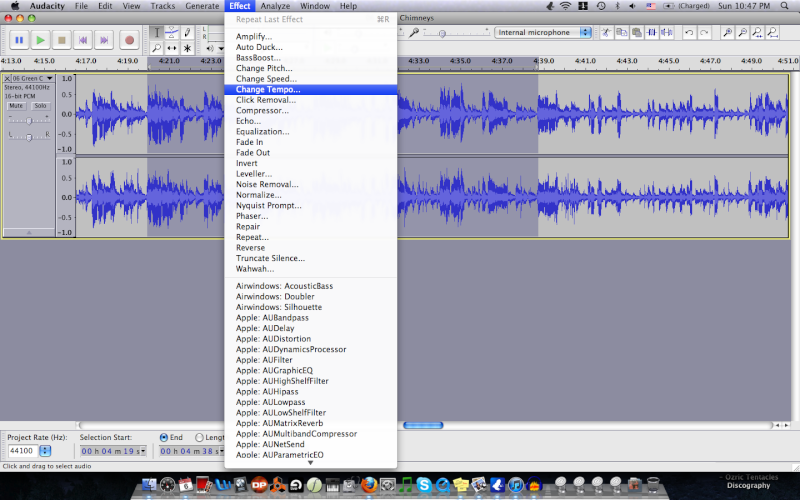 A window will pop up with a horizontal slider and a place to type in BPM and length of change. We will not be using the BPM, as the BPM will not be specified, and we already have the length selected (Step 4).
Use the horizontal slider (Left=slow down, right=speed up) to slow down the selected audio. To make sure it's not too slow or too fast, click
"Preview"
on the bottom left of the "Change Tempo" window to hear a short sample.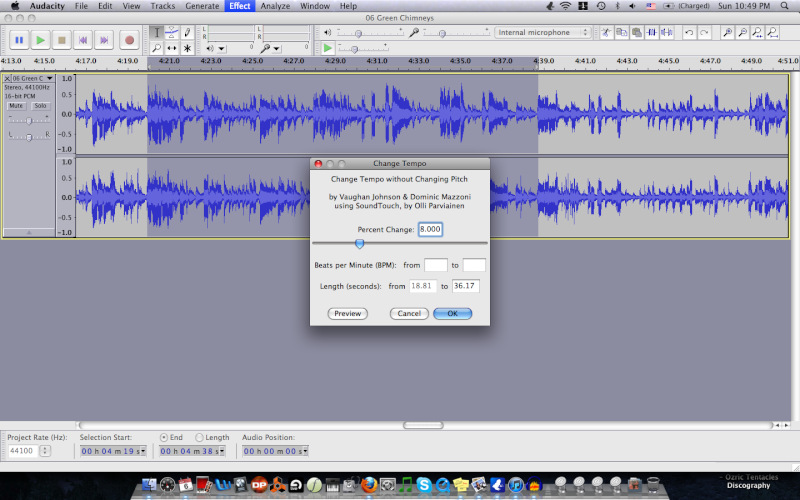 Once you have the new tempo to the speed you want, click
"OK"
. Audacity will affect the selected audio, and the darkened selection will be longer, with zoomed wavelengths: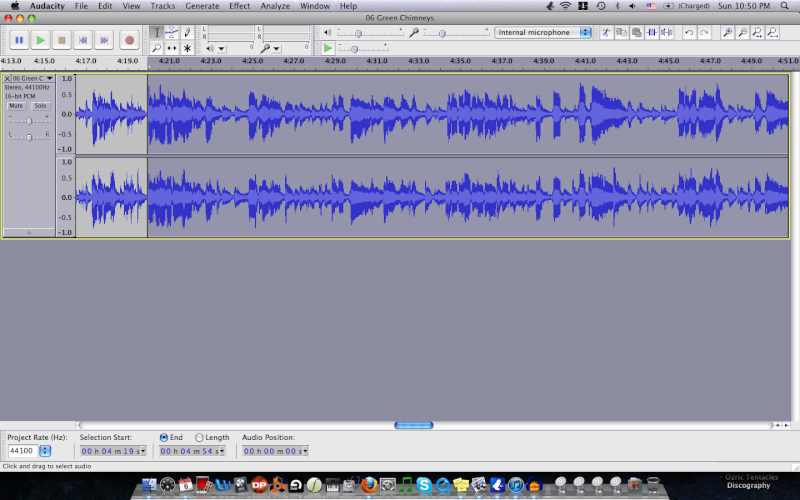 7) Learn the parts! You don't have to settle with learning just your instrument; figure out the chords, basslines, drums, etc. If you have all the parts learned and written out, then you've gained inside knowledge of the entire band's techniques/composition, plus you have the sheets to play the song with a group!

POSSIBLY THE MOST IMPORTANT STEP!!!!
When you close Audacity, it will ask if you want to save your file. CLICK NO!!!!! Or else your audio file will be slowed down in parts next time you listen.
This is just one small way to progress your own musical development, but it's one that has made a vast difference on my musical development as a composer and performer.
Using recording to improve technique
I remember hearing this advice for years and years, and didn't truly see it's advantage until I sat down and tried it.
When practicing or just playing over a tune, record yourself. Now obviously, there's stuff you want to record and things that don't need to be recorded (unless you really want a file of yourself playing scales for 20 minutes).
But recording solos, jam sessions, tunes you're working on, or even a cool little lick you don't want to forget can be an immense help.
Once you have your recorded audio, the haunting task of self-criticism comes into play. Without being too hard or soft on yourself, pick out things you liked in your recording, and more importantly, what you didn't like. By actually recording and sitting down and listening critically, you can find little (or big) things in your technique that may be holding you back. Once you hear the problem and identify it, it is very easy to systematically stop.
For example, I had a habit of playing little "trill-y" notes during improvising. While the thing itself wasn't awful, it was coming up way too many times in the same solo. I played like this for years, until I recorded a solo, listened to it, and realized that I wasn't hearing the "trillies" in my train of thought during soloing, it was just a muscle habit that kept popping up. After finding this problem, solving it was just a matter of sitting down and forcing myself NOT to play those trillies. After a couple hours a day for a few days of intentionally not playing the trills in my practicing, they no longer pop up out of habit, but at intentional moments at a reasonable quantity.
So, recording yourself practicing can be an immense help. Besides that, recording your band or ensemble can help work out communication problems, or just offer new song ideas from jam sections that probably would have been forgotten if not recorded.
Remember that audacity thing? You can use Audacity to record audio as well, using a microphone and interface or simply using the internal microphones that come standard in most computers.
Simple Recording on Audacity
*Note* I use this for a quick scratch recording, recording practicing/rehearsals, or maybe for something I want to save for later. While you can use Audacity to record and edit productions that you want to actually release, I advise using something with more options.
Simply hit open Audacity, hit "Record" and an audio track and your recorded audio will appear. You may need to hit stop and tweak levels/mic placement, but that is generally all it takes to record on Audacity!
*Notice the horizontal sliders for mic level and playback level on the top toolbar, located beside a drop box that should read "Internal Microphone." You can use this dropbox to select your interface if you are running an outside input.
You can save your recording as an audacity file, or export as an mp3 or wav.
You need to double click the audio file to
"Select All,"
the entire audio track will darken:
If you want to have your recording so you can listen on iTunes/WindowsMedia/Quicktime/whatever,
Click
"File">"Export Selection"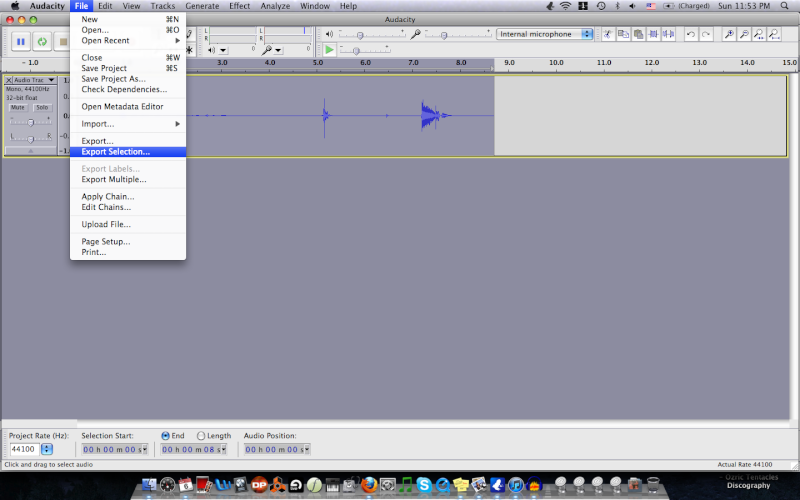 A window titled
"Export File"
pops up, where you will give your recording a title and choose where to save it:
You can also choose whether to export your file as a Wav/Aiff, mp3, ogg, flac (lossless), or others:
Click save and that's it! Now you have it!
*Note* If you don't want to export your recording, just click
"File">"Save."
There are also literally hundreds of home recording devices that can use programs on a computer or run standalone. These are also a good investment. While I don't personally own one, I've seen people get some great sounds out of a miniature or pocket recorder, plus there are plenty of recorders that have inputs as well. So if you feel like throwing down some cash, that may be a worthy investment so you're not stuck in front of the computer.
That's all for now! Hope this general guide has been helpful. These are just loose suggestions, the finer details are all up to you. Feel free to post anything you think would be a good addition to the guide, and I will be uploading new material as I come across it.
Last edited by jhawkins on Mon 07 Mar 2011, 3:57 am; edited 2 times in total
Free sheet music and transcriptions!
Here is a bunch of websites that offer a variety of different styles and sheets. Some are lead sheets, full transcriptions, or solos. Some are classical, jazz, rock, latin, experimental, acoustic. A wide variety:
The online real book- you can view the changes to virtually any tune in any real book for free, and more info is available after registering:
http://www.realbook.us/
Bruce Saunders- has a wide collection of transcriptions of artists such as Scofield, Kurt Rosenwinkel, John Coltrane, Grant Green, and other jazz greats:
http://www.brucesaunders.com/transcriptions1.html
Jazz transcriptions- self-explanatory
http://www.music.sc.edu/ea/jazz/transcriptions.html
Jazz transcriptions blog- while a little funny to navigate, it has a ton of transcriptions from many jazz pianists, sax, trumpet, and guitar players
http://www.jazztranscriptions.co.uk
Kieth Jarrett- has a ton of kieth jarrett transcriptions, not surprisingly
http://www.keithjarrett.org/transcriptions/
Colin Cambell's transcriptions- more jazz from a variety of artists:
http://sites.google.com/site/pianomaddness/jazztranscriptions
Michael Brecker Live transcriptions- transcriptions from one of favorite performers and composers. Def worth a look:
http://www.michaelbreckerliverecordings.com/transcriptions.html
Cannonball Adderly transcriptions- a wide variety of cannonball songs, includes audio, Bb and concert keys:
http://www.cannonball-adderley.com/part2.htm
Musical Transcriptions- a huge collection of jazz transcriptions:
http://www.stuntzner.brent.org/Transcriptions.html
Jean-Francois Delcamp- a huge collection of classical charts for guitar, goes from Middle Ages-Modern/Contemporary classical. Tons of stuff, this site was an amazing find. There's alot written by Delcamp himself, plus a huge archive of classics (and some lesser-known pieces). A great place to start building your classical repertoire.
http://www.delcamp.net/
Rootwitch- A website dedicated to the late Michael Hedges. If you haven't heard Michael Hedges, he was one of those guitarists that completely reinvented the guitar. There is tablature for all his tunes. I recommend learning the songs with the tabs and album version of the tracks.
http://www.rootwitch.com/1024/index_tabs.html
Lucas Pickford- a huge collection of transcriptions by individual artists by instrument and groups (a great selection of Steely Dan and Weather Report). Contains a ton of funk, fusion, jazz, and rock. Definitely worth checking out.
http://www.lucaspickford.com/trans.htm
Howard's Steely Dan Tab site- self explanatory
http://www.hakwright.co.uk/steelydan/tab.html
Stephen Redtenbacher's Transcription site- a TON of funk/rock/jazz/fusion bass transcriptions:
http://www.stefanredtenbacher.com/transcriptions/
Tower of Power basslines/transcriptions-
http://freebasspart.pv24.pagesperso-orange.fr/Tower_Of_Power.htm
These are a small portion of the vast amounts of information on the web. While the websites listed here do not limit to one instrument or notation, if you're looking for strictly tabs/chords, check out some of the various Power Tab websites or chordie.com for chord charts. While these websites have alot of info, not all is accurate, so be sure to doublecheck!
More to come!
Getting the Most Out of Your Band's Practice Recordings
Here is yet another part to the independent progressing article!
Now I will go through how to clean up those rehearsal recordings so you can actually hear something.
Remember how I mentioned earlier about how you can use your own practice recordings to listen critically and find out what you need to work on?
Who knew? You can use that same technique with your band: Recording your group will not only give you a clear definition of what you need to work on and tighten up the screws.
There is another advantage to cleaning up these recordings: Sure, you'll have a better sounding recording, but if you're like most of us, you can't practice with your band in a recording studio, so chances are wherever you're practicing doesn't have the greatest acoustics. By taking your recordings and working with editing and mixing, you can get a clearer quality for the group to listen to, plus you'll gain mixing/editing experience.
For example, I recently practiced with my five-piece band (2 guitars, piano, drums, bass), in a room a little bit bigger than a walk-in closet. Why used one "Blue" multi-pattern condenser mic. In the dry mix (as posted below), the drums covered up almost everything and the dynamic range was allover the place. Welcome to clip city.
Using a bunch of EQ, Compression, Multipressors, Stereo spread, limiters, automation, and good ol-fashioned cutting, I came out with a half-way decent mix of our rehearsal. While you definitely wouldn't want to try and sell these recordings, they can provide a somewhat clear view of what is going on with the band when you're in the zone playing.
*Note* If your band's jam is way too long on a song, try cutting out the parts you'd like to see shortened, and viola! Instant new recording. Now you have a clear example of what you'd like to hear to show the band, plus you get to practice mixing. How fun.
Anyway, here is the before track samples (dry mix):
Dry Mix (Fusion tune) by jhawkinsexamples
Dry Mix ("Alkaline" by Lotus cover) by jhawkinsexamples
and 2 of the full songs AFTER mixing and editing:
Post-edit Mix (Fusion tune) by Tantalizer/Jon Hawkins by jhawkinsexamples
Post-edit Mix ("Alkaline" cover by Lotus) perf by Tantalizer by jhawkinsexamples
While the post-mixing samples aren't perfect, there is a clear difference between the two. You can definitely get the post-mixes sounding cleaner, but for a recording to just listen to with the band and use as an example/critique tool, this quality will work fine. The important thing is to get the instruments as level as you can, and remove as much clipping as possible.
Photos:
Dry Mix:
Post-edit Mix:
*Notice the cut-up parts from where I removed sections of open jam to cut the track down to a reasonable length*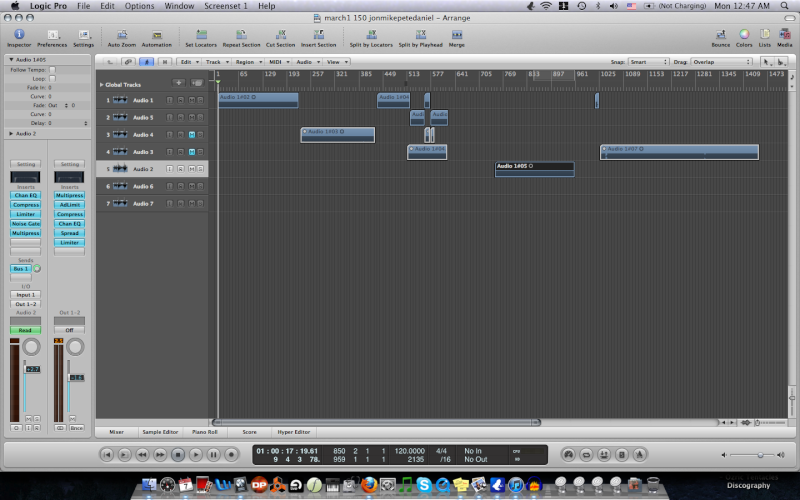 Post-edit Mixer: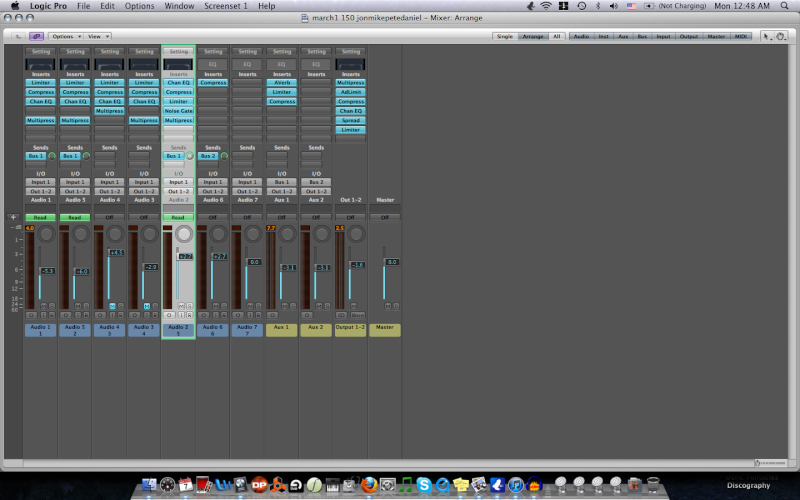 Post-edit Automation:
Bus effects: Reverb (Logic AVerb), Limiter, Compressor):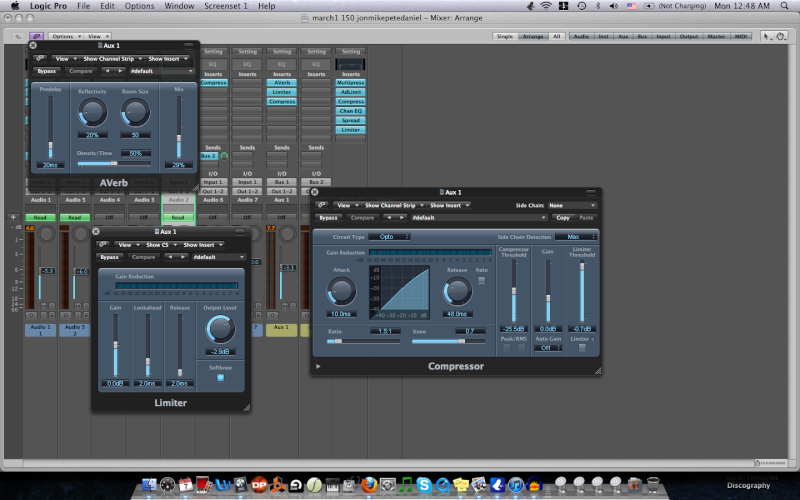 Post-edit Output effects (Multipressor, Compressor, Stereo Spread, Limiter, light EQ, Adaptive Limiter):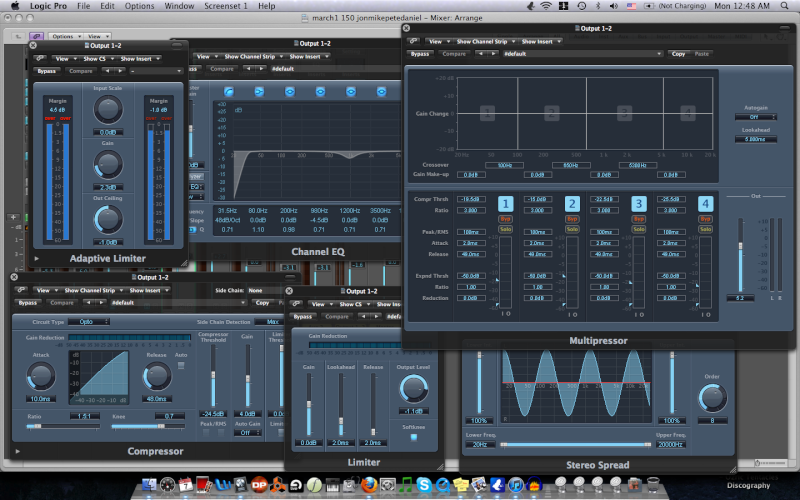 Once again, I advise
AGAINST
using these examples for a basis towards a track you want to release or sell. This example is used purely as a way to critique yourself and your band, and if anything else gain some mixing/editing experience. I saw this mix as almost like a puzzle. As you can see (or hear) from the dry-mix samples, the quality of the room and instrument levels left alot of work and tweaking to get it to a listenable sound.
Having said that, try to record your band's next rehearsal. While it may seem like wasted time to put work into a recording that won't be released or sold, it can offer some major editing practice, plus you'll have something to indicate what your band's strengths and weaknesses are.
There it is!


Similar topics
---
Permissions in this forum:
You
cannot
reply to topics in this forum